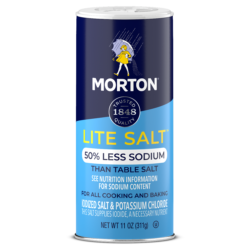 Find a store
MORTON®
LITE SALT™
Great Flavor With Reduced Sodium.
Morton Lite Salt is a salt and potassium chloride blend that contains 50% less sodium than regular salt*. It cooks the same, bakes the same, measures the same and flavors the same – so it can be used in all your recipes just like regular salt with the same great results.
* Should not be used by persons on a sodium or potassium restricted diet unless approved by a physician.
Cooking
Baking
At the table
Available in 11 oz canister
50% less sodium than regular salt
Find a store