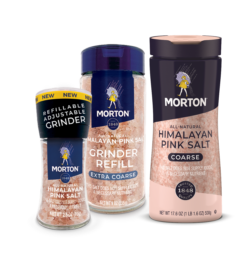 Find a store
MORTON®
COARSE HIMALAYAN PINK SALT
All-Natural Pink Salt to Enhance Your Everyday Foods.  
NEW! We've added Himalayan Pink Salt to our lineup so home chefs can add a pop of flavor—and color—to their dishes. Morton Himalayan Pink Salt is sourced directly from the Himalayan Mountains, which are rich in iron—that's what gives the salt its famous and irresistible pink hue.
Morton Himalayan Pink Salt is available in fine and coarse grain sizes as well as in an adjustable grinder to give home chefs the versatility they need to perfectly salt whatever they are cooking, from appetizers to desserts and everything in between.
Topping and finishing your favorite dishes and desserts
Perfect for grilling, seasoning and more
Available in 17.6oz shakers & adjustable grinders
All Natural
Find a store