Sea Salt Source
Morton Salt believes that creating the best tasting sea salt starts with sourcing only from naturally occurring saltwater lakes, oceans, and seas that are open to the sun and wind. Never mined or mechanically evaporated, Morton Sea Salt is always produced through natural solar evaporation. The Sea Salt production process begins by drawing ocean, sea, or saltwater lake water into large, shallow ponds. After the water is collected in these saltwater evaporation ponds, heat from the sun and exposure to the wind slowly evaporate away the water, allowing pure salt crystals to form naturally. The salt is then harvested, washed, crushed, and screened to the perfect size.
Morton maintains multiple solar salt facilities from which it can harvest and produce Sea Salt. For example, located alongside the largest saline lake in North America - The Great Salt Lake, Morton Salt's Grantsville, Utah facility harvests sea salt from the billions of tons of salt already dissolved in the waters of The Great Salt Lake. The natural replenishment of salt from local rainwater and snow melt makes it an ideal climate for natural solar evaporation. In addition, our affiliated Inagua, Bahamas facility in the West Indies has been harvesting salt from the surrounding ocean water since 1954.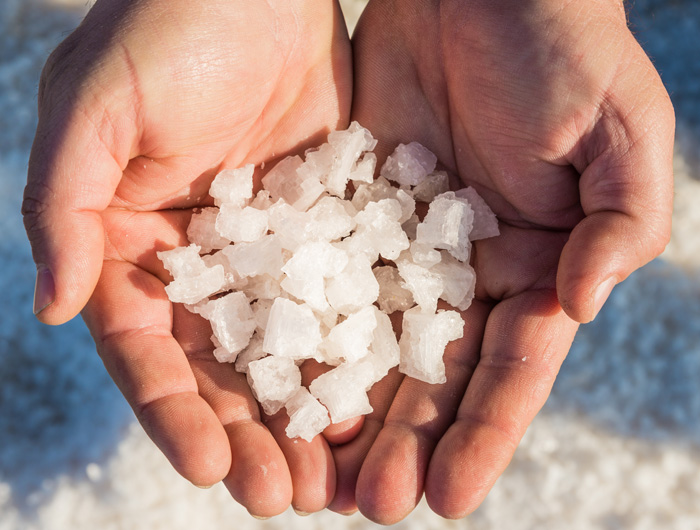 Forward Thinking
Beyond creating the highest quality and best tasting salt, Morton Salt is passionate about building a sustainable future for our company, the communities in which we operate, and the world around us. We bring this passion to life through a wide range of business, social, safety, quality, and environmental programs. As part of our commitment to these programs, we strive to reduce our carbon footprint and support jobs in our local communities.

Based in America's Heartland, Morton is proud to be an American owned and operated company. We strive to source as many of our products and packaging materials from our manufacturing facilities and other suppliers located in the USA. When domestic products and materials are not available or insufficient to meet our customer's needs, we work with foreign suppliers to ensure their products and materials satisfy Morton's high-quality standards.