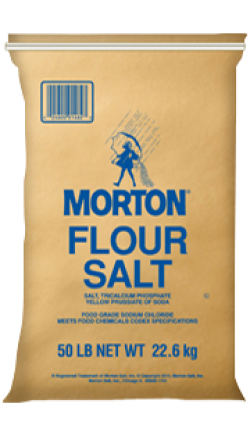 Morton®
Flour Salt
Flour Salt is food grade sodium chloride produced to a fine particle size. This product exhibits a high surface area and delivers a quick, salty sensation. For topical applications its excellent adherence properties result in more uniform coverage.
Certifications
Flour Salt complies with Food Chemicals Codex tolerances and federal cGMP standards. It is annually certified as Kosher.
Additives
Flour Salt contains tricalcium phosphate and a trace of yellow prussiate of soda as free flowing, anticaking agents. Yellow prussiate of soda is an additive permitted for food use and tricalcium phosphate is an additive approved as GRAS (Generally Recognized as Safe).
Cereals & Baked Goods: Icings/fillings, cake mixes, dough conditioners, yeast foods, instant hot breakfast cereal
Dry Blends & Seasonings: Breadings, batters, mixes, dough conditioners, soy flour powder, oil/extract powders, soups, sauces, gravies
Dairy: Butter, processed cheese dry powder
Condiments, Spreads & Processed Vegetables: Peanut butter
Snacks & Sweets: Chips, cheese puffs, popcorn, nuts, instant cocoa/drink mixes, coatings/crème centers, instant pudding/topping
The uses described above are subject to revision and/or changes based upon nutritional and manufacturing criteria.
Available in 50 lb. bags, 80 lb. bags, and Tote bags - various sizes

Unit Dimensions 
Net weight (lb): 50 
Gross weight (lb): 50.5 
L x W x H (in): 25x13x3.5 
Cube (ft³): 0.5 

Palletized*
Tiers: 7 
Bags/Tier: 7 
Bags/Pallet: 49 
Gross Wt. (lb): 2545 
Cube (ft³): 43 

Unit Dimensions
Net weight (lb): 80
Gross weight (lb): 80.9
L x W x H (in): 29x16x3.5
Cube (ft³): 0.9

Palletized*
Tiers: 7
Bags/Tier: 7
Bags/Pallet: 30
Gross Wt. (lb): 2497
Cube (ft³): 45


*Includes 48″ x 40″ standard wood pallet @ 70 lbs.
Salt Selection Guide
See how our most popular salt grades are applied to over 80 food applications.