Morton Salt Girl Inspires New Brand Platform: Walk Her Walk
CHICAGO, Nov. 23, 2016 – In just under five seconds, Morton Salt is shaking up the way people think about the brand. 
Morton Salt and award-winning rock band OK Go today unveiled a new music video unlike any other to date – "The One Moment" – which takes place in 4.2 seconds of real time. The video then unfolds in slow motion to demonstrate that it only takes a moment to create more brightness in the world.   
The innovative video kicks off Morton Salt's first-ever Masterbrand campaign in the company's 168-year history. The campaign launch also includes a branded content series, a dedicated website, out-of-home activations and media investment across digital and social platforms.
The brand platform is punctuated by the "Walk Her Walk" mantra, inspired by the Morton Salt Girl.  "Walk Her Walk" is a call to action for people to step up and become a force for good.
"Without a doubt, the Morton name is synonymous with salt," said Christian Herrmann, CEO of Morton Salt, Inc. "But there is more to our story.  Our next chapter is inspired by the unstoppable spirit of the Morton Salt Girl. She is a symbol of drive.  Of endurance.  Of acting regardless of obstacles.  We want to embody her spirit to make a real, tangible difference in people's lives in more ways than ever before."
He added:  "Every journey starts with a first step and we are excited to start to Walk Her Walk."
About "The One Moment" Video
Chicago-based Morton Salt collaborated with OK Go – a band with Chicago roots – to create a music video that would reintroduce the brand in an unexpected way and bring a unique perspective around how important one moment in time can be.
"The song 'The One Moment' is about those moments in life when you are most alive, the moments that truly matter, the moments when everything changes. It's the perfect song for Morton's message about stepping up and making a difference," says Damian Kulash, OK Go's lead singer, who directed the video. "We shot the video in a single moment to bring this feeling to life. We want to show that a single moment can contain so much wonder, so much beauty, and so much change. We hope it helps inspire people to use their moments wisely."
To develop "The One Moment" music video, OK Go created and interacted with more than 325 choreographed moments.
Shot in varying slow motion speeds, the video is a visual display of color, energy, and action that capture the amazing things that can happen in a moment.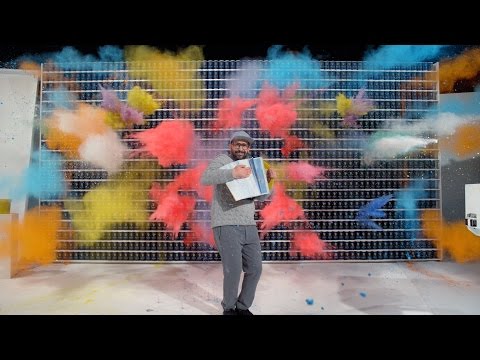 The video also features several one-of-a-kind innovators who are making a positive impact in the world. Their remarkable stories are told through video hot spots allowing viewers to learn and do more to support their causes.  
Morton Salt is committed to supporting these five difference-makers through grants and promotions.  A preview of their inspiring stories is below:
More information and videos about these difference-makers, "The One Moment" video and the Walk Her Walk platform can be found at: MortonSalt.com/WalkHerWalk. For the latest from Morton Salt follow us on Facebook, Instagram and Twitter with #WalkHerWalk.
About Morton Salt, Inc
Morton Salt, Inc., part of the K+S Group, is the trusted authority in salt in North America. Our iconic Morton® brand, coupled with the broadest footprint in the industry has made us a leader since 1848. We produce salt for culinary, water softening, household and road deicing, food processing, chemical, pharmaceutical, and numerous other industrial uses. Headquartered in Chicago, Morton has nearly 3,000 employees committed to safety, quality, service and the communities in which we operate.
For inquiries, please contact media@mortonsalt.com