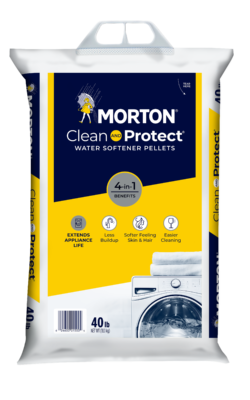 Find a store
Morton®
Clean and Protect
Extends appliance life while softening your water.
Morton® Clean and Protect contains a formula that prevents buildup in pipes and appliances , helping to extend their life and improve efficiency.*
Also available in a smaller 25 lb size, Morton® Clean and Protect is easy to lift, open and pour thanks to special bag features, including a sturdy plastic handle for more comfortable carrying and an easy-tear opening.
* Based on external laboratory testing
Check the salt levels, keeping the tank at least 1/2 full
Fill your softener with two bags of salt every two months
25 lb, 40 lb and 44 lb bags
Helps extend the life of appliances and water softeners
Recommended by Whirlpool®, Morton®, Northstar® and Ecopure®
Find a store
How Morton®
Clean and Protect Compares
Feature

25 lb, 40 lb and 44 lb bags

Helps extend the life of appliances and water softeners

Recommended by Whirlpool®, Morton®, Northstar® and Ecopure®

40 lb bags

Helps improve the taste of water and extend the life of appliances

Recommended by Whirlpool®, Morton®, Northstar® and Ecopure®

40 lb bags

All natural water softener salt

Application

Check the salt levels, keeping the tank at least 1/2 full

Fill your softener with two bags of salt every two months

Check the salt levels, keeping the tank at least 1/2 full

Fill your softener with two bags of salt every two months

Check the salt levels, keeping the tank at least 1/2 full

Fill your softener with two bags of salt every two months