Backyard pools mean family memories, a slice of serenity, and the best spot for summer beats and barbecues. But if you have a chlorine pool, it can mean harsh chemicals and itchy eyes and skin. With a salt water pool, it means refreshing swims with no odor or irritation. Morton Salt's high-purity pool salts work with your system to keep your pool filled clean and clear water. So, you can Keep on Swimming. Learn more about how Morton Salt helps make every plunge into your pool perfect.
Morton Salt made our #1 Pool Salt even better! Morton's new Professional's Choice® is made with a finer grade of salt that dissolves faster – so your pool is clean, clear and ready for swimming sooner. Go ahead, dive in!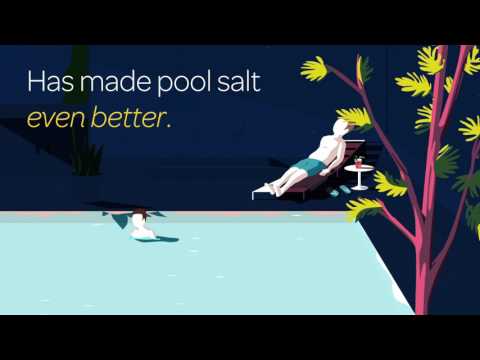 Chlorine Pools vs. Salt Water Pools
It's no secret that salt water pools are gentler on hair, eyes, skin and even your pool. That's why households across America are changing from chlorine to salt water pools. You'll feel the difference with every swim.
How Does A Salt Water Pool Work?
How does a salt water pool work? It's science, really. Watch this video for a simple explanation of how salt crystals are electrolyzed to make your salt water pool clean, clear and better for swimming. It's easy. In fact, your high school science teacher could learn a thing or two.
Salt Water Pool vs. Chlorine Pool? No brainer.
With so many different kinds of pool salts, how do you know which is right for you? Let's dive on in.
Not sure how much pool salt you need for the season? Morton makes it easy.